Trusted Pest Control Services For Dallas, TX Homes & Businesses
Dallas, Texas, is a major metropolis and a bustling hub of local commerce and culture. The climate is pleasant all year round with four distinct seasons. There's a fair amount of precipitation in this humid subtropical region, and moisture is a major attractant to all kinds of pests. The last thing anyone wants to worry about is a pest infestation, and that's why the team at Falkin is here to do the worrying for you.

Falkin Pest Control is proud to provide quality residential and commercial pest solutions to local communities in The Colony & Greater Dallas area. Since 2013, we've been offering comprehensive coverage for many types of pests including rodents, termites, roaches, wildlife, bed bugs, fleas, ticks, and more.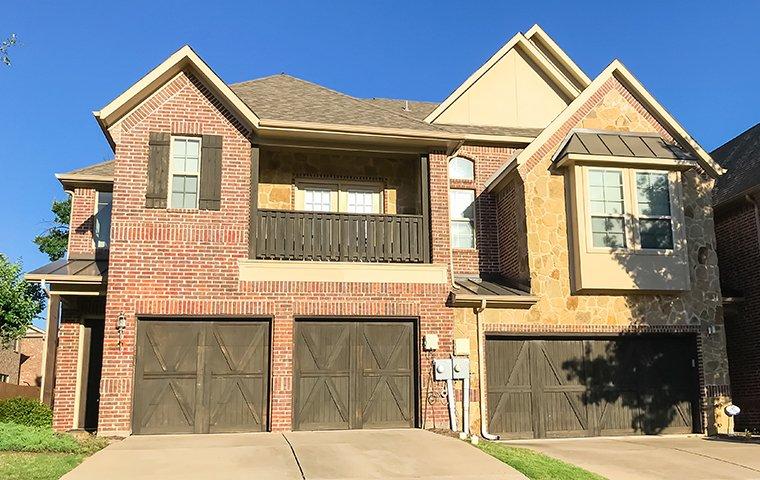 Home Pest Control In Dallas, TX
Dallas is an extraordinary place to own a home, but when pests invade your property, they compromise your overall quality of life. Falkin Pest Control's residential pest solutions protect you, your loved ones, and your house from the consequences of a pest infestation.

Our team of highly trained pest experts includes licensed technicians and a seasoned entomologist on staff. We utilize a 58-point pest analysis system to accurately identify the nature of the infestation, the exact species of pests you're dealing with, and the conditions around the property that may have allowed them entry.

After a detailed inspection, we work with you to come up with an individualized treatment plan that eliminates unwanted pests from your home and keeps them away in the future. Contact us today to discuss your residential pest control options. We're happy to provide you with a free consultation and a complimentary estimate for our services.
Commercial Pest Control In Dallas, TX
Dallas is home to many thriving businesses and growing companies; sometimes the energy of the city feels unstoppable. But what if pests were a part of the equation? What if your business experienced an infestation that threatened the health and safety of your employees, your customers, your reputation, and your bottom line? Here at Falkin Pest Control, we offer complete commercial pest solutions to a wide array of clients, including:
Healthcare Facilities

Food Manufacturers & Distributors

Retail Businesses

Schools

Multi-unit Buildings

Apartment Complexes

Condominiums

Hotels
Contact us today to speak about your commercial pest control needs. We're ready to provide you with a professional consultation and a free estimate for our services. Don't wait another minute. Start protecting your business today from the perils of pest infestation.
Are Mosquitoes In Dallas, TX Dangerous?
You may wonder if mosquitoes are really that big of a deal. Yes, they bite you and leave you with itchy red welts, but are they really that harmful? The truth is that mosquitoes are vector pests. They suck the blood of multiple hosts and have the ability to transmit diseases from one host to another. That puts you and your loved ones (and even your pets) in danger. Mosquitoes can transmit a long list of vector-borne illnesses, including malaria, West Nile virus, encephalitis, Zika virus, yellow fever, chikungunya, dengue fever, tularemia, and more.

In order to protect yourself from these mosquito-borne illnesses, it's crucial to have a professional mosquito control system in place. Falkin Pest Control offers complete mosquito control services that eradicate the problem from your property and keep it away for good. We spray the entire exterior of your home and implement structural modifications that are meant to keep mosquitoes away from the area. Protect yourself and those you love from these harmful bloodsuckers. Call us today for a consultation!
Guide To Avoiding American Cockroaches In Dallas, TX
American Cockroaches are more than nuisance pests. They're indicative of poor sanitation, improper moisture maintenance, and a lack of cleanliness. These are not positive associations. Needless to say, cockroach infestation should be avoided at all costs. It's threatening to your health, your home, and the wellbeing of your loved ones.
Here are some tips for avoiding American Cockroach activity:
Regularly sweep beneath your stove and the refrigerator.

Vacuum the floor, and keep household appliances clean.

Reduce clutter, as cockroaches love finding shelter in piles of junk.

Reduce sources of humidity and excess moisture.

Fix leaky pipes and faulty faucets.

Maintain functioning gutter and downspouts.

Use dehumidifiers in moisture-rich areas such as basements, kitchens, bathrooms, and laundry rooms.

Install weather stripping around the windows and doors.

Never leave food out. Quickly wipe up spills, and store food in airtight containers.

Properly seal the trash, and take it out regularly.

Thoroughly inspect deliveries, used furniture, boxes, plants, and appliances before bringing them inside.

Seal spaces around pipes, cables, wires, and utilities that enter from outside.
If you suspect any signs of cockroach activity, call us immediately. Falkin Pest Control has many years of experience in the successful removal and prevention of American cockroaches. We conduct a thorough inspection, pest identification, and detailed treatment that guarantees a roach-free space all year long.
Schedule Your Free Inspection
Complete the form below to schedule your no obligation inspection.